Studio Makeup Tips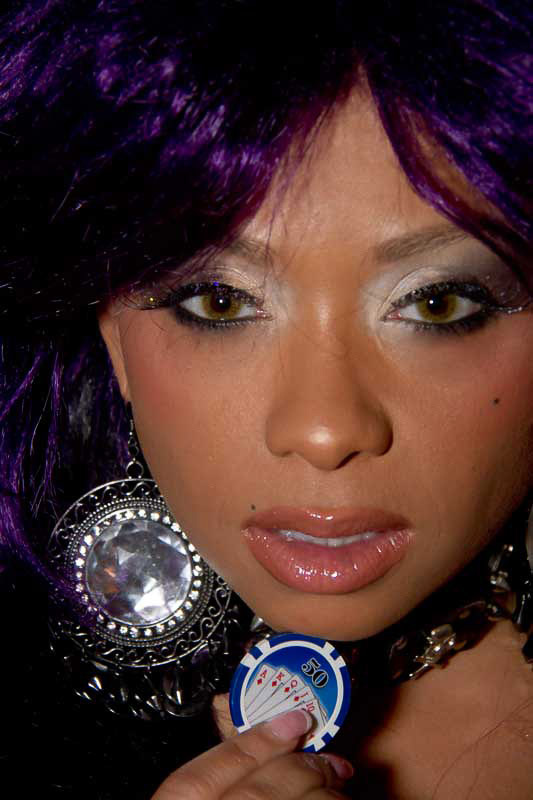 You may have seen celebrity photos or wedding photos or even some of your own taken when a camera flash was used that resulted in a ghostly zombie white complexion. Some look like a racoon white rings around the eyes or perhaps just a side of the cheeks like like dusty white. It was not the camera, it is what is known as FLASHBACK from the strobe lights and your makeup. Sometimes the effect is planned as it is here but often it is a surprise that was not expected. The makeup industry created a really great idea -- put sun protection into your foundation cremes and powders for daytime outdoor wear. Provide skin protection from the sun and make your complexion look flawless. However, the down side is the main ingredient in most products is titanium dioxide -- the same white pigment in paints and the white creme lifeguards put on the nose for sun burn protection. When a brief but powerful burst of the strobe lights iluminates your face what comes through is the relective white pigments in the foundation. In a studio the lights are much more intense than 50 watt strobe light on your home camera-- more like a 1000 watts and usually several of them together.
Luckily there are products available to you that can overcome this problem and it is really just being aware of what is in your foundation. So let me say upfront I do not endorse any particular brand and recommend you to do further searches online to see what others have experienced but I can tell what I have tried and does work for me. First, when you are shopping and surrounded by all of the many products lines and see the SPF on the label that should be an alarm bell to look more closely at the ingredients. Often companies will sell the outdoor protection and also the night evening wear and an HD ready product for the picture events. I will say that you can pay a lot or not so much for HD products but they will work fine. Revlon photo ready, Make Up For Ever HD, Smashbox Liquid Halo HD, are all brands I can say worked well and really more and more products arrive each day competing in this space. Your choices will be whatever works for you but do give them a try at home with your camera before venturing out onto the Red Carpet as some of the celebs have.
Ok, so we have talked about the foundation but as many of you know there may be a concealer and a primer under the foundation and then a setting powder on top of all of that. Worse we now can buy many of these products with glitter or sparkle baked into the product rather than added on. Adding glitter is a really fun look except when it is photographed under strong lights and does things that were not really the intended look. This is where you need to think about what look you trying to achieve and try it before doing the shoot. As you may have seen there some really exotic high fashion looks and everything from black glitter lips to jewels and relective items added to the face to make striking photographs. The first step is to know what lights are doing with your makeup and then to make adjustments.
The discussion above is more to those of you who are adept at doing your own makeup and are comfortable with foundations, highlights, bronzer, blush, etc. But for those of you who do not normally wear makeup for whatever reason please understand that the makeup is important to head off problems like shine from oils in the skin. Especially in the forehead and nose areas. Shine is a problem when ever working with studio lights and a good foundation really helps.
With the right makeup and good lighting the pictures will look stunning. Please contact us if you have questions.