Preparing for Photoshoot
A successful photo shoot begins before you arrive at the studio. Many of the details will vary according to the type of shoot. Is it a commercial, or personal portrait? Is it glamour or family? Does it involve a location or is it studio. So much will be decided before you begin and then the work begins.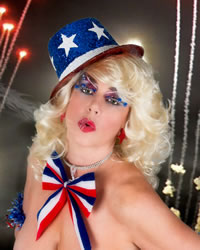 SLEEP - yes it is called a beauty sleep for good reason. Clarity of the skin, circles under the eyes and a lack of red eyes do help immensely. Alertness, attitude, and professional appearance go a long way to help the shoot start well. You may or may not be requested to show up with hair and makeup. If the shoot has commercial or fashion components you will most likely be under the care of a makeup artist and generally not having applied makeup shortens the time needed to remove and cleanse existing makeup elements.
Glamour, makeover, and fashion makeup can vary from theatrical, airbrush to a more conventional makeup. so the makeup artist can create the desired look. In the picture to the left the model was in the makeup chair for almost an hour and a half. The face was completely cleaned and a foundation was applied. The foundation is a key to a smooth skin, and removing shine from oils and skin. Time spent on the foundation is well spent because it is so important to the result. The camera does not love shiny faces and they are hard to correct even on Photoshop retouching. While Photoshop gives the studio the capability to correct problems it is the choice of last resort because it takes time and resources best used elsewhere.
The eyes and lips are where the viewer will focus and thus get a lot of attention. In the glamour shoot picture here the eyes had plastic decal like applications (exotic eyes in this case) applied with an adhesive and then the colors and highlighting were added by brush to extend the look. The eye lashes were crafted from several different lashes cut and glued together to form an accenting to the eye treatment. Lips were given asymmetrical striping just to peak the viewer interest.
If you are doing your own makeup favor a slightly bolder (like a night time) makeup. The camera will not capture subtle or slight makeups as well as a slightly heavier bolder look.
Wardrobe - avoid plaids, stripes, or patterns unless it is deliberately coordinated. A family picture is best when appearance does look completely random. Some sense of fashion coordinated makes for a better lasting impression. Remember when you look at it 20 years hence you want to remember a pleasing portrait. It is not that everyone needs to be exactly alike just a harmonious set of styles. Likewise if the shoot is more commercial an art director or wardrobe coordinator will control the styling and you need to wear it with a sense of flair. Remember a model is more about selling the product not about personal image.
So the point is much needs to be communicated with the studio and that good shoots don't happen by accident. If you wish further information please contact us.